Home Biography News Music Reviews Shows Photos/Videos Contact/Book

Mike Penner started Honeywagen in the year 2000 and has written and released several cds via Kool Kat Musik over the years. He digs the electric guitar, and writing songs with a good melody and some cool chords.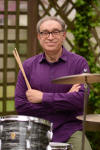 Charlie Pautler hails from Kansas City, Missouri. A drummer since he was 12, his early interest in rock-n-roll was cemented when he saw a video clip of the Beatles for the first time. His drumming influences include Ringo, Mitch Mitchell, John Bonham, John Siomos, Gene Krupa, and Bobby Elliott, among others. He plays all styles of music, but Power Pop is his favorite. Charlie has played with Honeywagen since 2018, and plays a mix of vintage equipment to get that desirable 60's and 70's rock sound. He lives with his wife Mary and their very needy cat in Overland Park, Kansas.

Scott Christensen has been a member of Honeywagen since the year 2000, and has appeared on each of the five albums released, contributing material to Atomic Cafe, and Jamboree. Aside from occasional vocals and songwriting, his main focus is on guitar - finding the right sound, chord, note to support each song. Scott's primary influences are the "B's" that is, British Invasion, Beatles, Beach Boys, Byrd's, Buffalo Springfield, and Big Star. Scott resides in Lee's Summit, Missouri with his partner Virginia and best four-legged friend, Amos.

Gary Charlson is a guitar player/bass player/singer-songwriter. His melodic tunes for Titan records have long had a cult following among power pop/new wave fans. Gary lends his talents on the bass guitar to the Halfdog record.